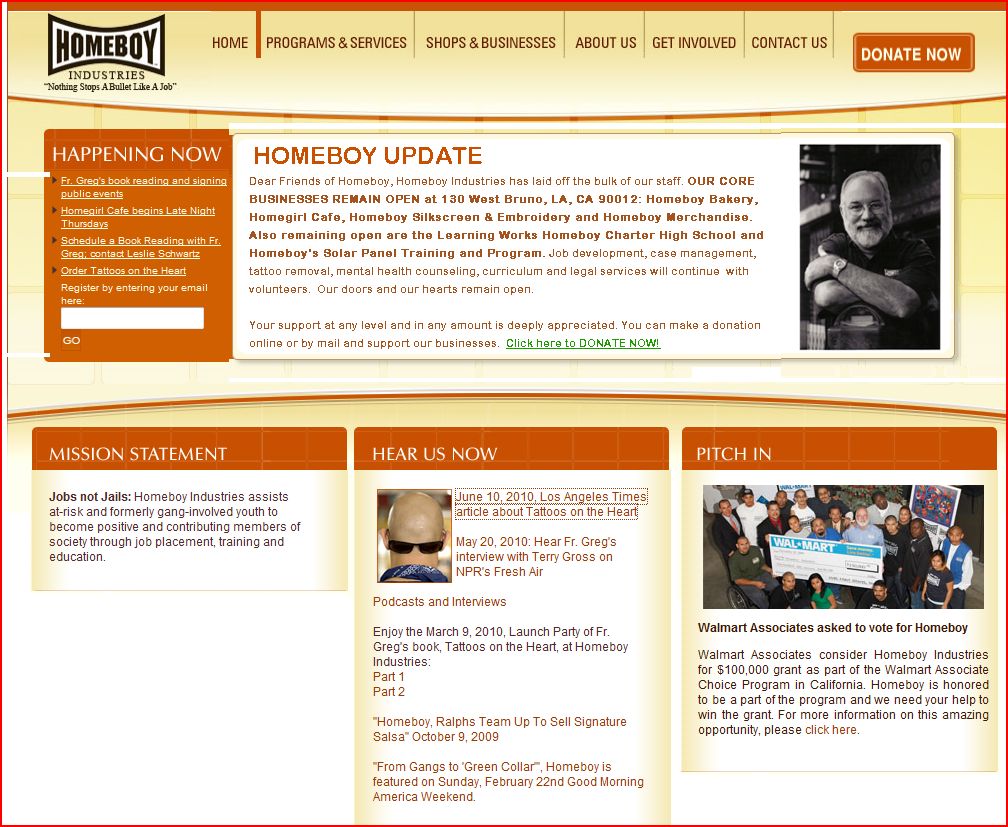 My daughter and I were 10 minutes late to Father Gregory Boyle's book signing Tuesday night and were surprised to find a standing room only auditorium on a day that reached over 105 degrees outside. Fr. Boyle spent the next hour regaling the audience with stories about the "homeboys" he has been helping for the last 22 years in downtown Los Angeles.  Particularly moving was his recounting of his trip to Washington D.C. with three of his "homeboys" at the bequest of First Lady Laura Bush.
After visiting HOMEBOYS in LA, Mrs. Bush asked Fr. Boyle to speak at a conference in the nation's capital and then to come with the invited homeboys to a White House dinner. Fr. Boyle described in great detail the difficulties of getting security checks through the Secret Service since all three homeboys were ex felons, he spoke of the difficulties of getting permission from the probation department, he described the pride the men showed when they were being fitted for suits, and he described amidst audience laughter the White House menu that included potatoes stuffed with caviar that one of the men found "nasty." But perhaps most movingly, he spoke of the trip back home and how one of the homeboys brought a stewardess to tears when he told her of his adventure in Washington D.C. and she was able to see how far he had come as a man and not as a tattooed felon.
The mission of HOMEBOY Industries is to assist at-risk and formerly gang-involved youth to become positive and contributing members of society through job placement, training and education.  According to NPR, Homeboys is the largest gang intervention program in the country. But sadly in May, Fr. Boyle announced that the organization was another victim of the Great Recession and he had laid off his staff of 300 ex gang members and the organization was now struggling to survive.
Soon after the layoff announcement Boyle spoke with NPR.
"We hope that someone will rescue us," Boyle said. "But maybe it won't happen. Is there another place in the county of L.A. where people with records and with a gang past can go and jump-start their life? No, there isn't."
Boyle says the program's successful Homeboy bakery, silk-screening and the Homegirl Cafe remain open for business. But with very little government funding and no major donations, there's simply no money for services. After Boyle announced the layoffs, many of his workers vowed to stay on as volunteers.
"I couldn't get from my car to here without people hugging me and [saying] we're staying, we're not going anywhere, you don't have to pay us," Boyle said. "But they can't do this forever. … We're probably in denial a little bit, but we're hoping … the fat lady hasn't sung yet."
At the end of Tuesday's talk it didn't appear that many in the audience wanted to leave including us. Attendees stood in a long line that wrapped around the room for a chance to say hello to Boyle and have him sign a copy of his  book "Tattoos on the Heart".
Tonight Fr. Boyle will be at another book signing at Our Lady of Malibu at 7:30 pm.  If you can't make it, you can view a schedule of his appearances at the HOMEBOY Industries website. My daughter and I are going to try to be early this time so we don't miss the first minutes of his address.