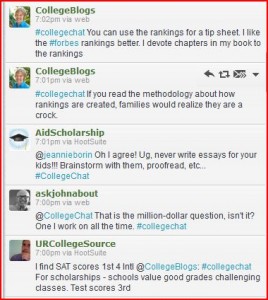 Last night, Lynn O'Shaughnessy, a bestselling author and higher education journalist, shared  advice from her newly published book The College Solution: A Guide for Everyone Looking for the Right School at the Right Price (2nd Edition) during #CollegeChat on Twitter.
We had an interesting discussion revolving around how to find the right school at the right price. We covered the following topics:
What are the biggest sources of college money.
How can you increase your chances of qualifying for merit scholarships.
How can you evaluate the generosity of a school before applying.
Where to find the best online tools to evaluate colleges.
What do families of divorce need to know about financial aid.
How to use net price calculators.
You can read the entire 34 page transcript here Collegeblogs Transcript 5-15-12