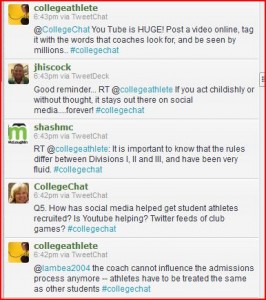 Social media has quickly transformed the world of athletic recruiting in just a short period of time according to Karen Weaver, EdD, director of Athletics for Penn State University-Abington and a TV color analyst for ESPN, CBS College Sports and Big Ten Network. Weaver was a recent guest on #CollegeChat and discussed how social media is benefitting both athletic programs and high school athletes who want to play in college.
During #CollegeChat, Weaver addressed the following questions:
How has social media changed athletic recruiting?
Can college coaches "friend" students on FaceBook? What are the guidelines?
What are the best practices in for both recruiters and prospective athletes to use in technology and social media?
What questions should an athlete ask a coach on a college visit?
Has social media changed high school athlete recruiting for the better?
How has social media helped get student athletes recruited? Is Youtube helping? Twitter feeds of club games?
Do high school students need to go through the expense of belonging to fee based online recruiting sites?
The entire transcript is available for download Social Media & Recruiting Transcript